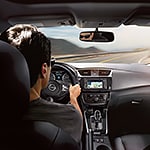 The new Nissan Sentra is one of the most popular midsize sedans available to consumers today. Its popularity stems in part from the innovative accessories that you get when you buy the new Sentra. Discover what these accessories are and how they can make your new sedan even more enjoyable to own.
When you want to give your new Sentra a uniquely sporty look, add on its optional rear decklid spoiler. This spoiler fits easily over the top of the trunk. It lends a sporty visual appeal that makes your Sentra look even more alluring and sleek. It also comes with a carpeted trunk floor mat. This mat is ideal for putting down before stowing items like groceries, sporting gear or camping equipment. It protects the floor of the trunk and prevents dents and dings.
You can also get a four-piece splash guard set. This set shields exterior parts like your tires.