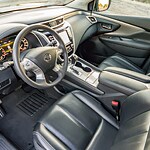 Are you an explorer? We at Sisk Nissan understand how important it is to find a vehicle that can enable and expand your possibilities. The Nissan Murano, a popular AWD crossover is up to the challenge.
Peek under the hood of the Murano, and you'll find a 3.5-litre V6 engine. This beast produces up to 260 horsepower and a maximum of 240 lb-ft of torque for exceptionally capable performance. Plus, when you add in the effects of the aerodynamic body, you get a crossover that drives like a sports car — plus, the low-drag design helps you get up to 28 mpg on the highway.
In the Murano, the fun doesn't stop when the snow falls. The available all-wheel drive system uses intelligent technology to adjust to any road conditions, providing tailored traction and ensuring that you're in control. Try out the AWD by coming to test-drive the Murano with our Hopkinsville staff.