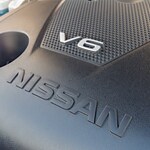 Whether you're seeking luxurious amenities, excellent handling, high-performance features, or all of the above, the Nissan Maxima is bound to be right up your alley. You can test drive the newest Maxima models at our showroom here in Hopkinsville, KY, so feel free to stop in with your questions for our knowledgeable team today.
The Maxima's power-generating abilities leave little to be desired. You'll be able to count on having up to 300 horsepower to work with when you need it most as you enjoy an estimated highway fuel mileage rating of up to 30 miles per gallon.
The well-designed suspension system contributes to a comfortable ride in a wide range of conditions, while a unique control set-up allows the driver to switch easily back and forth between standard and sport driving modes for the ultimate in performance.